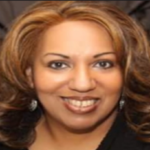 Apostle Lisa H Fuller is the Founder and Senior Pastor of Christ's Arms Reaching Everywhere Ministries and Overseer of Evangel Association of Churches and Ministries Network #3.
Dr. Fuller has served in numerous national and international capacities preaching, teaching, evangelizing, and leading mission teams on the continents of Africa, Asia, Europe, and North America spreading the Gospel of Jesus Christ not only throughout Christendom, but in the marketplace. Dr. Fuller has been recognized for Outstanding Leadership In Global Missions by Second Ebenezer Church/Bishop Edgar L. Vann, Distinguished Servanthood by the Liberian Evangelical Baptist Convention (LEBCO), Ghanta, Liberia, and Master Teacher and Humanitarian by the Rapid Response Chaplain Corps.
Dr. Fuller has an honorary Doctorate in Divinity, an Associate of Arts degree in Christian Leadership, a Bachelor of Science degree in chemistry, and a medical degree in Osteopathic Medicine.
Visit: DrLisaHFuller.com